virus cleaning on a mac (but i thought macs don't get viruses)
virus cleaning on a mac
BUT BUT I thought macs don't get viruses! is one of those phrases that if I could get a nickel every time I heard that, I would have a lot of nickels! or not!
Th reality is that a lot of people are surprised to hear that macs get some kind of virus because that is one of those myths (and sales points) people know about macs in general. people are sold on it for a long time ago and rightfully so. Because the statement is kind of true in a way.
When someone says macs do not get viruses they mean mac OS or macs operating system can not be infected with a virus. That is almost true. Because mac os is built(unlike windows) in a different way. Where pretty much all programs run independently of the operating system. They are like little separate entities running their little scripts and they don't rely on other programs or operating systems to do it. They use the operating systems as a foundation only and that's why it is difficult to put a virus on a mac which would affect the way the computer works as a whole. So usually there is no need for virus cleaning on a mac at all.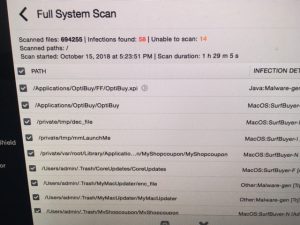 Windows is actually the opposite. Windows runs as if the whole world is a bubble and everything is connected inside with each other. all programs are connected with windows as if they had an umbilical cord connected to the mother for survival. and therefore by injecting a code into a system like that it is easy to affect the whole operating system and make things crash or whatever else viruses do that will affect everything.
however, in today's day, and age things are different. and the main difference is that word virus used to describe malicious programs in the past. has now evolved into many different other words. like malware, adware, ransomware, cryptoware, etc etc. they all do different things and that's why they have different funny names.
Now let's get to the actual topic of this post! About time right!? the picture I have posted above is from a virus scan on an iMac that a customer brought in. it was infected pretty heavily. if you opened a browser, first of all, you would see some strange-looking home page, that sort of looks like google but its not. then you see all kinds of ads popping up, then you type a web address into a window but you are taken to a completely different website! What's going on?! well, you need a virus cleaning on a mac. That's what's going on!
most of the time these days people get what's called adware on their computers. they are kinda like viruses but they are not! I call them legal viruses. they are legal because they don't have any characteristics of a virus, they even have a special term to be called- PUP or potentially unwanted programs. they don't do any harm to your computer but they sure are annoying. on mac you see them in the forms of mymaccleaner, mackeeper, shopping buddy, etc. what they do is they pretend to be an antivirus or a shopping companion or something else, they are hard to turn off, they offer you to buy something and so on. but they don't steal your information nor do they harm your computer, they just annoy and trash your computer hoping you will buy something or they will take you to a site they advertise so you can buy something there!
anyhow that is what you get on a mac (as well as on pc) nowadays! they are common, they hijack your browsers they drive you crazy, and that's when you know you need a virus cleaning on a mac!
if you're looking for reliable, quickest mac repair or pc repair service in the Newbury park or Thousand oaks area call us at 805-585-5535 or stop by at 3339 Kimber dr. Suite D, Newbury Park, Ca 91320 www.fastestmacpcrepair.com check out our reviews on yelp https://www.yelp.com/biz/fastest-mac-repair-and-pc-repair-newbury-park-thousand-oaks
mac repair thousand oaks, mac repair Newbury park, mac repair Camarillo, mac repair malibu, mac repair Westlake Village, mac repair malibu, mac repair 91320, mac repair 93010, mac repair 93011, mac repair 93012, mac repair 93020, mac repair Agoura hills, mac repair 20265