macbook pro beer damage repair
statistic show that mac users are way more prone to spill fluids on their macbooks than pc users. i dont know why that is. i suspect because mac people are free souls and creative types and dont sit in their cubicles with their back straight looking at one point into the monitor! and yes they don't. that is obvious. the creative types sit at starbucks, on couch, on sofa, on beach, at parties and many other places where there are drinks and fluids around! it sounds so freeing and great, yet they do pay a hefty price for it! see you can be creative all you want, but computers by the way they are made, they just don't like to get wet!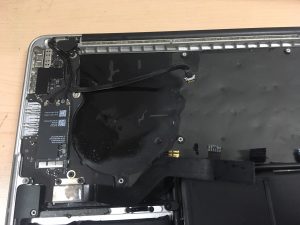 i personally sit with my computer everywhere too, but i dont let drinks or any other fluids near it. i have seen it too many times gone wrong way! so i guard my laptop from those kind of accidents! so this macbook pro came in cs fluids were spilled on it! and i was told it was water, but when i opened it. i smelled some other smell and it was too familiar for me not to recognize( Brett Kavanaugh would have recognized it too! he loves it so much! LOL) haha it was beer! so now we had a macbook pro beer damage repair on our hands! and it was a little different from water. cause some beers are sweeter than others so i think they put sugars in them and that makes beer a little sticky too. so few components had to be washed off.
anyhow this macbook pro 2015 had battery damage too, so that had to be replaced also! it turned out all ok at the end! computer works fine! everyone is happy!  toast to that!
if you're looking for reliable, quickest mac repair or pc repair service in thousand oaks area call us at 805-585-5535 or stop by at 3339 Kimber dr. Suite D, Newbury Park, Ca 91320 www.fastestmacpcrepair.com check out our reviews on yelp https://www.yelp.com/biz/fastest-mac-repair-and-pc-repair-newbury-park-thousand-oaks
macbook repair thousand oaks, macbook repair newbury park, macbook repair camarillo, macbook repair malibu, macbook repair westlake village, macbook repair malibu, macbook repair 91320, macbook repair 93010, macbook repair 93011, macbook repair 93012, macbook repair 93020, macbook repair agoura hills, macbook repair 20265
our twitter page: https://twitter.com/fastestmacandpc
our google plus page: https://plus.google.com/u/0/116938480522490170066
give us likes on our facebook: https://www.facebook.com/fastestmacpcrepairnewburypark/
https://www.tumblr.com/dashboard