install windows on imac is usually a  simple thing if you know how to follow directions.
in a perfect world! what directions don't tell you many times – is what to do when one step does not work as expected. and you can not proceed to next step! which is usually the case with all apple products and their use! they are advertised and seem to be very flawless, until of course you run into some trouble! then you have to go scout the forums or call all your friends or finally go find a computer person like us to help you!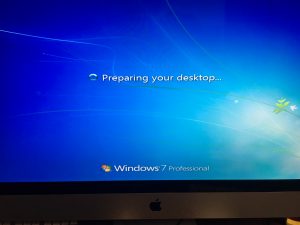 this is what happened  to this 27 inch imac. the owner wanted to install windows on imac. and she did it pretty much ok except of  one thing. she installed wrong windows! the reason being is that older imac do not support windows 10. and bootcamp notifies you of that when you attempt to, however in her case it did not and she was able to install it! soon after that however it was clear that something was not running right. and that issue was the drivers. the drivers for winodws 10 on 2011 imac are not even available. so computer was restarting and doing all kinds of strange behaviors.!
so she brought it to experts! but for us also it was a little tricky at first, because imac would not boot properly from windows 7 installation. it would freeze and stop in the middle of installation, etc. i had to go back to bootcamp and restore original partition, create a new one and follow steps from beginning and even then imac was confused prompting me i can not install windows 10 on this imac, when i was using windows 7 disk!
anyhow it all worked out well at the end! install windows on imac 27 inch was successful. everyone is happy!
if you're looking for reliable, quickest mac repair or pc repair service in thousand oaks area call us at 805-585-5535 or stop by at 3339 Kimber dr. Suite D, Newbury Park, Ca 91320 www.fastestmacpcrepair.com check out our reviews on yelp https://www.yelp.com/biz/fastest-mac-repair-and-pc-repair-newbury-park-thousand-oaks
imac repair thousand oaks, imac repair newbury park, imac repair camarillo, imac repair malibu, imac
repair westlake village, imac repair 91320, imac repair 93010, imac repair 93011, imac repair 93012,
imac repair moorpark, imac repair 93020, imac repair simi valley, imac repair agoura hills