imac repair simi valley
install windows on imac is usually a  simple thing if you know how to follow directions.
in a perfect world! what directions don't tell you many times – is what to do when one step does not work as expected. and you can not proceed to next step! which is usually the case with all apple products and their use! they are advertised and seem to be very flawless, until of course you run into some trouble! then you have to go scout the forums or call all your friends or finally go find a computer person like us to help you!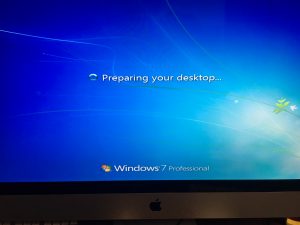 this is what happened  to this 27 inch imac. the owner wanted to install windows on imac. and she did it pretty much ok except of  one thing. she installed wrong windows! the reason being is that older imac do not support windows 10. and bootcamp notifies you of that when you attempt to, however in her case it did not and she was able to install it! soon after that however it was clear that something was not running right. and that issue was the drivers. the drivers for winodws 10 on 2011 imac are not even available. so computer was restarting and doing all kinds of strange behaviors.!
so she brought it to experts! but for us also it was a little tricky at first, because imac would not boot properly from windows 7 installation. it would freeze and stop in the middle of installation, etc. i had to go back to bootcamp and restore original partition, create a new one and follow steps from beginning and even then imac was confused prompting me i can not install windows 10 on this imac, when i was using windows 7 disk!
anyhow it all worked out well at the end! install windows on imac 27 inch was successful. everyone is happy!
if you're looking for reliable, quickest mac repair or pc repair service in thousand oaks area call us at 805-585-5535 or stop by at 3339 Kimber dr. Suite D, Newbury Park, Ca 91320 www.fastestmacpcrepair.com check out our reviews on yelp https://www.yelp.com/biz/fastest-mac-repair-and-pc-repair-newbury-park-thousand-oaks
imac repair thousand oaks, imac repair newbury park, imac repair camarillo, imac repair malibu, imac
repair westlake village, imac repair 91320, imac repair 93010, imac repair 93011, imac repair 93012,
imac repair moorpark, imac repair 93020, imac repair simi valley, imac repair agoura hills
imac video card replacement
is a very common repair on imacs before 2013. graphics chips used to fail quite often on macbooks, imacs as well as pc, mac minis and all other devices. there are couple reasons for it. some graphic chips were defective, some were good but perhaps were not installed properly, some overheated and their life expectancy has shortened, some just died prematurely.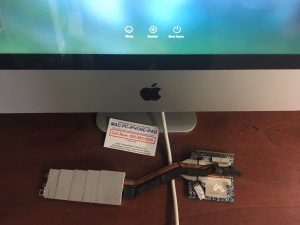 graphics chip overheating definitely contributes to failure and apple of course is a little responsible for it as well! first of all apple markets their devices as invincible and all super powerful designed for high end graphics processing used by creative people in all kinds of industries. now in reality, macbooks are really not designed for that at all. they might have powerful hardware and some do, but they dont have proper ventilation whatsoever. imacs are a little better but just as bad. they are all in one computers and they dont really have proper ventilation either, which is necessary for any graphics chip that will be overloaded to max capacity to process data, which makes it heat up to the max. as result they will have shorter life span and will fail and imac video card replacement will be needed.
another thing that apple is doing to their macbooks and imacs and their customer that not a lot of people know. is that they use cheap thermal paste to create heat continuity from the chip to the heat sink. the cheap thermal paste is not so good after all and it prevents heat sink and fan from doing its job properly also. if better paste applied some people recorded temperature drops at around 15 degrees lower than with bad paste that apple uses.
knowing apple, this maybe intentional. cs if your imac video card fails and you need imac video card replacement they will quote you a price that is not cheap and you will start thinking about buying a new imac. And their sales people will also steer you in that same direction. anyhow. who knows whats going on there. im just giving you direct info from whats going on in mac repair world!
anyhow, this 20 inch imac was not booting up. and after few tests and other component tests we quickly determined it was graphics chip failure. since this was an older imac it was actually cheaper to replace video card with new video card and problem was solved. if you have 2011 or 2012 imac 27 inch it is usuallly cheaper to get graphics chip replaced!
call us if your imac doesn't boot, or you see colored lines on screen, or pixelation or imac doesnt even start. they are all indicative of video chip failure and they need imac video card replacement or repair.
________________________________________
if you're looking for reliable, quickest mac repair or pc repair service in thousand oaks area call
us at 805-585-5535 or stop by at 3339 Kimber dr. Suite D, Newbury Park, Ca 91320
www.fastestmacpcrepair.com check out our reviews on yelp https://www.yelp.com/biz/fastest-mac-
repair-and-pc-repair-newbury-park-thousand-oaks
imac repair thousand oaks, imac repair newbury park, imac repair camarillo, imac repair malibu, imac
repair westlake village, imac repair 91320, imac repair 93010, imac repair 93011, imac repair 93012,
imac repair moorpark, imac repair 93020, imac repair simi valley
our twitter page: https://twitter.com/fastestmacandpc
our google plus page: https://plus.google.com/u/0/116938480522490170066
give us likes on our facebook: https://www.facebook.com/fastestmacpcrepairnewburypark/