macbook pro screen repair
MacBook Screen Repair is a very often job we do at Fastest Mac Repair and PC Repair. The reason it is common is that many people drop from the bed, step onto, punch, or run over their MacBooks with a car! Yeah, that happens too! These MacBook damage incidents, in a way, are normal. People have always broken MacBooks by accident! It is nothing new. Today, however, we did a MacBook pro screen repair for another reason that needs to be mentioned here, in case you don't know about it yet!
The reason this 2020 Macbook pro came in for repair, was the screen had lines on it and it was flickering. Many people get confused when it happens. They think this is a 2-year-old MacBook pro, why would the screen go bad like this? They try connecting the MacBook pro to the external monitor via HDMI and try other things suggested on the internet, but nothing works. The MacBook Pro screen either flickers or shows black lines across the bottom or doesn't show anything at all unless you close a bit or keep it open at a certain angle.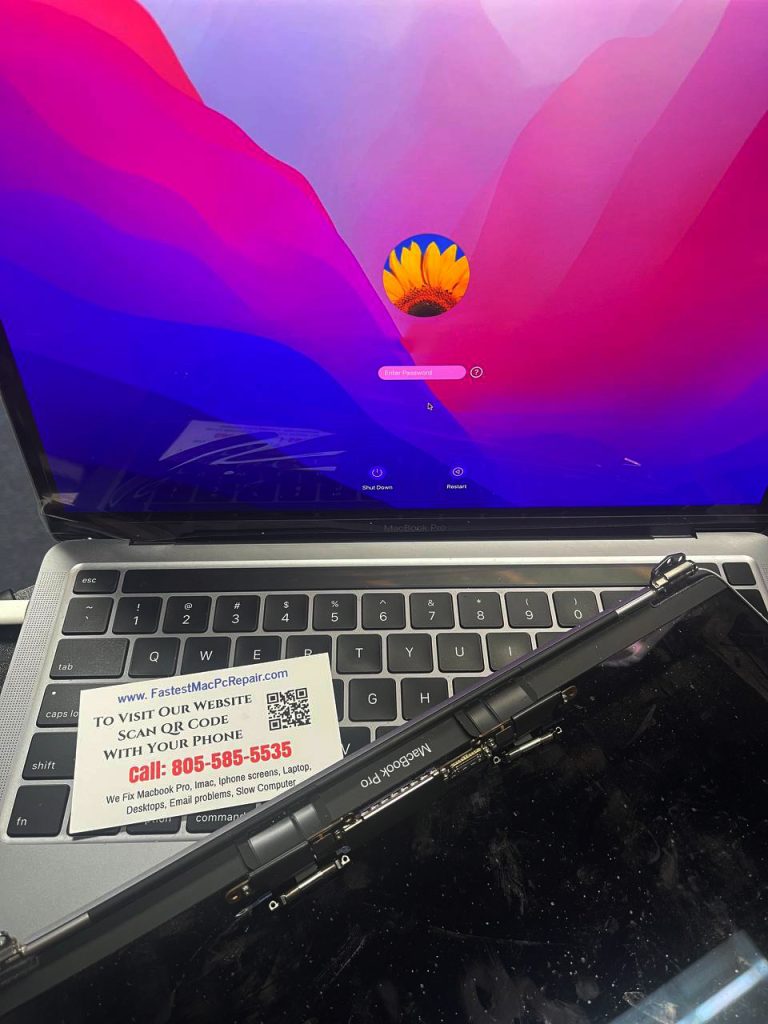 This (famous) MacBook pro screen issue is called FlexGate. ("Flexgate" like "Batterygate" are sarcastic terms to describe the issues, because of how Apple responded and handled them). The screen problem itself happens because of the faulty screen flex cable (hence the "flexgate"). A paper-thin type of cable that Apple introduced to their screens since their 2015 MacBook pros and use flex cables for MacBook screens to this day. The biggest problem with the flex cables is that they are made out of paperlike material, which tends to wear out a lot quicker, especially if you open and close them more often than usual. Plus perhaps some of the first flex cables weren't even made from the best materials, to begin with.
2016 and 2017 MacBook pro models like A1706, A1708, and A1707 had the most Flex cable failures. They were failing so much that people turned it into a class action lawsuit against Apple in 2020. Because Apple didn't want to honor screen replacement when people started bringing them back when they experienced this issue. With every customer, Apple tried to weasel its way out of it and would only replace screens for people who were really adamant with their demands. The more timid customers would just turn around, leave or pay the full price to replace the MacBook screen replacement. It all went on for a while when these most problematic MacBook pros became older and then Apple was able to say that they are too old and normal wear and tear was expected for these flex cables.
All this time Apple denied its responsibility to reimburse customers for bad screen cable design. And how can you blame them? It would have cost them millions. I'm sure that would have made Apple shareholders unhappy. So they just threw their customers under the bus and had them bear the consequences. By the way, there was a second class action lawsuit over flex cables filed against Apple, but just like the first one in 2020, this one was thrown out by the judge and that was the end of it!
Then in 2018 Apple "got caught" making the 2018 MacBook pro screen flex cable a little longer. Which for some people meant that they admitted their (probably accidental) wrongdoing with the short and fragile flex cables on their previous models of MacBook pros. Making the cables longer and improving their quality made the issue go away partially, but not completely. MacBook Pro screen flex cables still go bad and it happens pretty often.
It is not uncommon for them to fail after around 2 years. Some manage to last longer. It probably depends on how often and how many times you open and close the lid on your Macbook Pro.
Either way, if your MacBook Pro has screen issues related to the flex gate cable, we can help. MacBook screen replacement is a pretty quick repair. It takes about an hour (usually less) if we have the screen available in stock for your particular MacBook. We try to have them in stock, but sometimes we have to go pick them up from our suppliers. Which also can be done the same or the next day at the latest.
If you are not sure if you have a "Flexgate" issue on your MacBook, call us at 805-585-5535 and we will help you diagnose it! Or stop by at 3339 Kimber Dr. STE D, Newbury Park, CA 91320 – The fastest mac repair in the Thousand Oaks area!
a1502 13 inch retina macbook pro screen replacement is one of the most common repairs that we do.
Truth is that apple macbook pro screens unfortunately are not invisible and they break all the time. sometimes people step on them, sometimes they drop them, sometimes they punch them or someone throws things at them!
so they crack, break, and sometimes they even stop working without you having to do anything with it!
Since 2013 apple macbook pro screens were changed, to where you are not able to take them apart very easily. partly because they became thinner and better resolutions (retina screens). therefore the only way to do a1502 13 inch retina macbook pro screen replacement or repair, is to replace the whole top screen.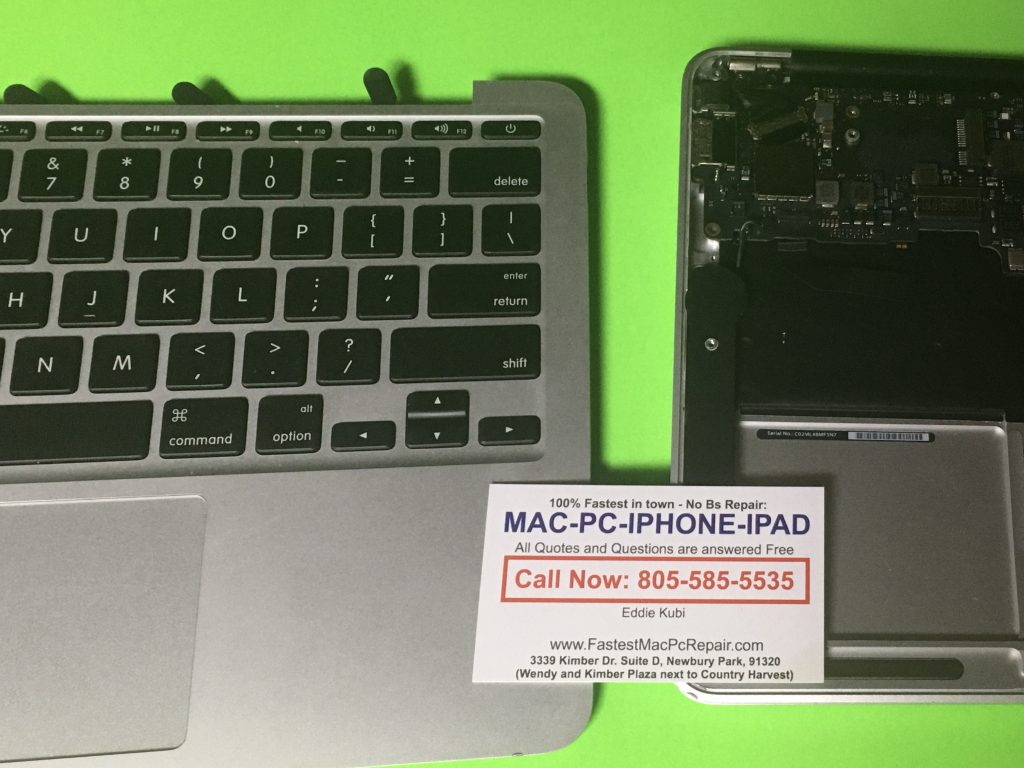 depending on year and model of your laptop that can get pretty expensive. also partly because apple itself is not very friendly with repair people like us anymore. and importing screens and other parts from china has become more difficult. and screen prices are not going down so rapidly anymore, even if they age.
but at fastest mac repair and pc repair newbury park, we still can do it fairly cheap and fairly quickly! we have parts available in stock and we try to get you your macbook back as fast as possible! because i know how difficult it is to be away from facebook for a long time!
on this macbook, the screen simply stopped working, which is unusual, but it might have been related to previous macbook pro water damage it incurred few years back. its hard to say when so much time has passed. but after trying a new retina screen it started working. so diagnosis took literally 10 minutes and macbook pro screen repair was completed quickly after that!
so if your macbook screen is not working, bring it by for a quick a1502 13 inch retina macbook pro screen replacement! we usually do this one very quickly!
call us at 805-585-5535 for a free quote or visit us at fastest mac repair and pc repair newbury park – 3339 kimber dr. Suite D, newbury park, CA 91320
______________________________________________________________________________
macbook pro screen repair thousand oaks,macbook pro screen repair moorpark,macbook pro screen repair simi valley,macbook pro screen repair westlake village,macbook pro screen repair newbury park,macbook pro screen repair camarillo,macbook pro screen repair malibu,macbook pro screen repair agoura hills,macbook pro screen repair fillmore,macbook repair thousand oaks,macbook repair moorpark,macbook repair simi valley,macbook repair westlake village,macbook repair newbury park,macbook repair camarillo,macbook repair malibu,macbook repair agoura hills,macbook repair fillmore