a1502 13 inch retina macbook pro screen replacement
a1502 13 inch retina macbook pro screen replacement is one of the most common repairs that we do.
Truth is that apple macbook pro screens unfortunately are not invisible and they break all the time. sometimes people step on them, sometimes they drop them, sometimes they punch them or someone throws things at them!
so they crack, break, and sometimes they even stop working without you having to do anything with it!
Since 2013 apple macbook pro screens were changed, to where you are not able to take them apart very easily. partly because they became thinner and better resolutions (retina screens). therefore the only way to do a1502 13 inch retina macbook pro screen replacement or repair, is to replace the whole top screen.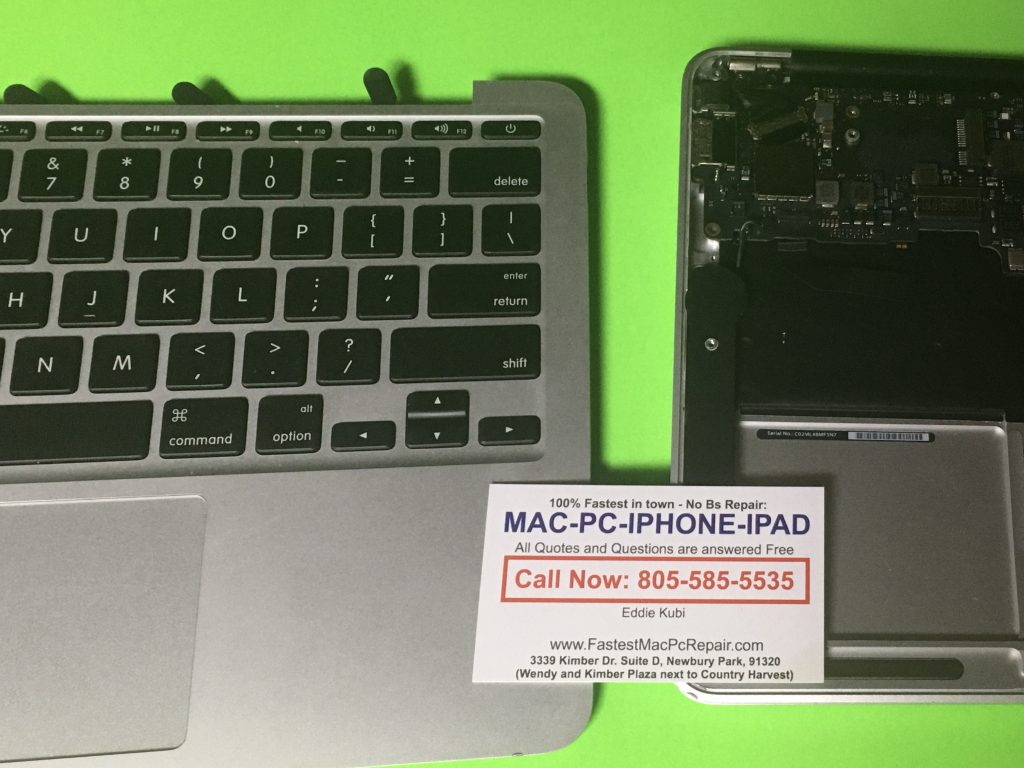 depending on year and model of your laptop that can get pretty expensive. also partly because apple itself is not very friendly with repair people like us anymore. and importing screens and other parts from china has become more difficult. and screen prices are not going down so rapidly anymore, even if they age.
but at fastest mac repair and pc repair newbury park, we still can do it fairly cheap and fairly quickly! we have parts available in stock and we try to get you your macbook back as fast as possible! because i know how difficult it is to be away from facebook for a long time!
on this macbook, the screen simply stopped working, which is unusual, but it might have been related to previous macbook pro water damage it incurred few years back. its hard to say when so much time has passed. but after trying a new retina screen it started working. so diagnosis took literally 10 minutes and macbook pro screen repair was completed quickly after that!
so if your macbook screen is not working, bring it by for a quick a1502 13 inch retina macbook pro screen replacement! we usually do this one very quickly!
call us at 805-585-5535 for a free quote or visit us at fastest mac repair and pc repair newbury park – 3339 kimber dr. Suite D, newbury park, CA 91320
______________________________________________________________________________
macbook pro screen repair thousand oaks,macbook pro screen repair moorpark,macbook pro screen repair simi valley,macbook pro screen repair westlake village,macbook pro screen repair newbury park,macbook pro screen repair camarillo,macbook pro screen repair malibu,macbook pro screen repair agoura hills,macbook pro screen repair fillmore,macbook repair thousand oaks,macbook repair moorpark,macbook repair simi valley,macbook repair westlake village,macbook repair newbury park,macbook repair camarillo,macbook repair malibu,macbook repair agoura hills,macbook repair fillmore