Computer Is Locked Scam – Fixed
Yesterday we had a pc computer brought to us by one of our customers. They responded to our advertising for computer repair in Moorpark, CA. The customer complained that he got a call from someone pretending to be Microsoft support. He talked to them and he followed their directions for a minute until he realized it was a scam call. However, after what he was told to do and after something that he did, his Windows 10 pc computer, became locked.
This is what the screen on an "infected pc" looked like:
Since I didn't know anything about it, it got a little frustrating, because there was really no way to log into a computer. I tried booting into safe mode and tried looking at the registry to see if there were any programs being launched on the windows startup. But I couldn't get anywhere.
I also tried downloading Kaspersky bootable USB rescue disk, and booting the computer from it, but couldn't even see any directories on the C-drive in order to back the files up. Nothing seemed to work.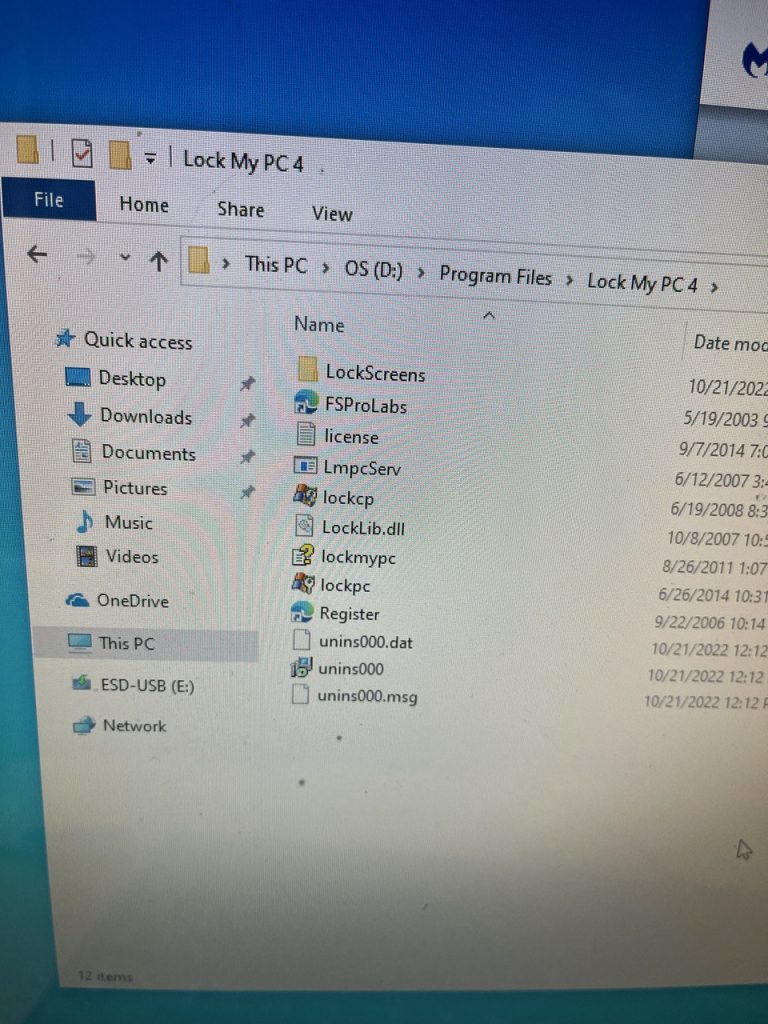 How To Fix Computer Is Locked Scam
After that, I installed a second hard drive into the computer and installed a fresh version of Windows 10 on it. From there I was actually able to access the files. The first place I went was the Program Files directory. In there I immediately saw some strange folder named Lock My PC 4. I opened it and saw that it was some sort of software that might be locking this computer.
Since I was on a different OS, I couldn't uninstall it. So I just went ahead and deleted the entire folder with all files in it.
After the folder was deleted, I unplugged the new drive and left the original drive only. Restarted the computer and voila! It booted up normally.
Then I ran a virus scan that turned up some PUPs, but no viruses nor any kind of malware on the computer. Which was strange. Cause I really expected there would be something that caused this Lock My Pc 4 program to be installed. But there was nothing.
So then I went to the developer's website who created this Lock My Pc 4 Software and I saw a note in red letters at the top of the screen. Which said that due to scammers using this Free software, the developer decided to discontinue public access to it. This means that the scammers were using this well-intended software to fulfill their evil deeds and scam people out of money.
How Do I Protect Myself From Online Scammers
I can not stress this enough. Do not let anyone ever connect to your computer remotely, unless you know the person in real life and you can trust them. I can not begin to tell you how many customers I had who trust people who call them up and pretend to be from HP, Microsoft, or some other place. Then gain access to their computer to lock it up or infect it with viruses and then ask for a ransom to fix the problem they have just created.
People have too much trust in institutions and scammers take advantage of that! If you want to keep your computer clean. DO NOT LET ANYONE REMOTE ACCESS YOUR COMPUTER EVER!
What To Do If Your Computer Has A Lock Scam
If you read this article and you're somewhat proficient with computer repair you can just do what I did, but only if your screen looks the same as I posted in the picture, or it might look slightly different because when I looked through that folder, they had 6 similar images to put on a lock screen as part of the software.
If you have no idea how computers work, but you have a pc that is locked and you can not open it. Then call Fastest Mac Repair and Pc Repair Newbury park at 805-585-5535 and we will help you fix it!
Or stop by our computer repair shop at 3339 Kimber dr. STE D, Newbury Park, CA 91320. We're open 10-5 pm on weekdays and sometimes on Saturdays. Please call to verify Saturday hours!
We also provide pc repair in Moorpark, Thousand Oaks, Agoura Hills, Camarillo, Malibu and surrounding areas!