macbook pro water damage battery replacement
macbook pro water damage battery replacement
the great Bruce Lee once said, don't be rigid,  Empty your mind, be formless, shapeless — like water.  the reason he said that is because water has no shape or form on visible level and there is really no way to know where it's gonna go, unless you have a container for it or you restrain it. 
so when someone spills fluids or water on a macbook pro there is really no way of telling where the water is going to go.  so best thing you can do, really, is to open the lid up as fast as possible and disconnect the battery. it is electricity that kills computers when water is on them. nothing else. but if you dont disconnect battery then there is no way of knowing where the water will go or what damage is it going to do.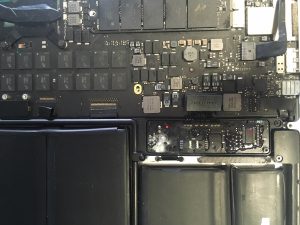 like in this case of macbook pro water damage battery replacement, water went literally everywhere. macbook pro needed logic board repair because it would not start at all. and then after logic board was repaired. we noticed that the battery was not recognized. and it was obvious why. the red dot on battery board indicated there was water there and there was corrosion on board itself. so verdict was simple battery was shorted out it was dead.
if you're looking for reliable, quickest mac repair or pc repair service in thousand oaks area call us at 805-585-5535 or stop by at 3339 Kimber dr. Suite D, Newbury Park, Ca 91320 www.fastestmacpcrepair.com check out our reviews on yelp https://www.yelp.com/biz/fastest-mac-repair-and-pc-repair-newbury-park-thousand-oaks
macbook water damage repair thousand oaks, macbook water damage repair newbury park, macbook water damage repair camarillo, macbook water damage repair malibu, macbook water damage repair westlake village, macbook water damage repair malibu, macbook water damage repair 91320, macbook water damage repair 93010, macbook water damage repair 93011, macbook water damage repair 93012, macbook water damage repair 93020, macbook water damage repair agoura hills, macbook water damage repair 20265
our twitter page: https://twitter.com/fastestmacandpc
our google plus page: https://plus.google.com/u/0/116938480522490170066
give us likes on our facebook: https://www.facebook.com/fastestmacpcrepairnewburypark/
https://www.tumblr.com/dashboard