Spilled Wine On The Computer
If i could have a penny for every time i heard people say: i spilled wine on the computer. I would have a lot of pennies! maybe even few dollars at this point! 🙂
Wine is actually one of the many liquids people tend to spill on their pc laptops or macbooks accidentally. usually it is water or coffee or milk, beer, juice- you name it!
Yet one common thing i notice is that people often don't even realize that electric circuit boards and fluids don't go very well together. Especially when there is electric current involved in the mix!
If people spilled wine the computer, they will usually let it sit a day or two, thinking it will dry out. then they turn it on and nothing happens. Or computer might turn on and then turn off few minutes later.
That happens because, believe it or not, there is a residue that forms on the inside of computer from fluids spilled,which creates corrosion and that creates unnecessary connections between components that shouldn't be touching together. Which then lets electric current go where it is not supposed to and it burns something as result.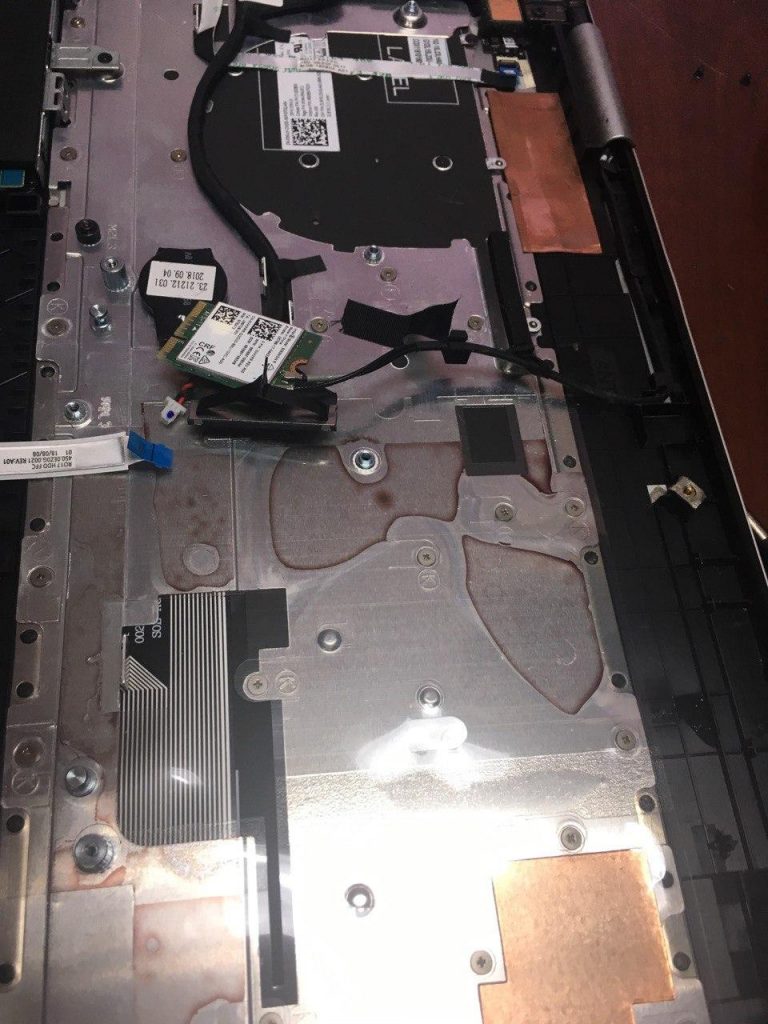 That's why, if you spill wine on the computer, best thing to do is to disconnect or take out the battery from your pc or macbook as soon as possible. and then open the computer to clean the remaining fluids off inside the computer. so those improper connections are not created.
the problem with that these days is that most computers today are designed in a way, so access to battery is very difficult. macbooks for example require a type of screwdriver that is difficult to find and not many people will have it laying around the house!
As well as pc computers, also have batteries inside the laptops now and are difficult to open, with screws often hidden under rubber pads, plastic lining or screws hidden under the keyboard and so on!
In other words, manufacturers don't really want you to have quick access to anything these days! and that's where we come in!
So if you happen to spill wine on your computer(or any other fluid), best thing is to:
turn computer on immediately! push and hold power button until computer shuts off.
call us at 805-585-5535 or stop by at 3339 kimber dr. suite D, newbury park, ca 91320
and we will open it for you, clean it off and in most cases your computer will be working as it did before
Do not get fooled thinking that computer will dry out on it's own on the inside. It may do that, but that takes more than one day! there is little air ventilation on the inside of any laptop and it may take a week or even two for fluids to evaporate from the inside naturally! do not turn the computer on until it has been opened and made sure fluids are completely gone. or otherwise you might damage your pc laptop or a macbook even futher!
you have been warned!
we provide full macbook water damage repair and pc laptop water damage repair on the component level if necessary!