A1990 Macbook Water Damage Repair – Case Study
When it comes to Macbook Water Damage Repair, the outcome of the repair can not always be predicted. Depending on how much water, coffee, tea or fluid was spilled on a macbook and where the fluid went will determine the outcome of the macbook repair.
Another important part is- it also depends what you did with the macbook AFTER the water was spilled on it. Because most people think they can just take a fan, or put it in rice and after one hour the issue will fix itself. Then they try to turn it on and they burn something on the logic board. People get this kind of bad advice on the internet and then they have to pay extra to repair the macbook.
The best thing to do when you spill water on a macbook, is to shut it down immediately. Or better yet, disconnect the battery from the logic board. So it really doesn't get any electricity flowing through the system.
Then you must open your macbook up and clean any possible wet spots on the logic board (from both sides), and anywhere else you see any wet spots.
Then you must inspect the logic board and all connectors for any existing corrosion. If corrosion is present, its best you remove it asap, so the corroded chips don't fry next time you power the computer on. And then it is always a good idea to leave the logic board to dry for a little bit, depending where the water went and what components were hit by it.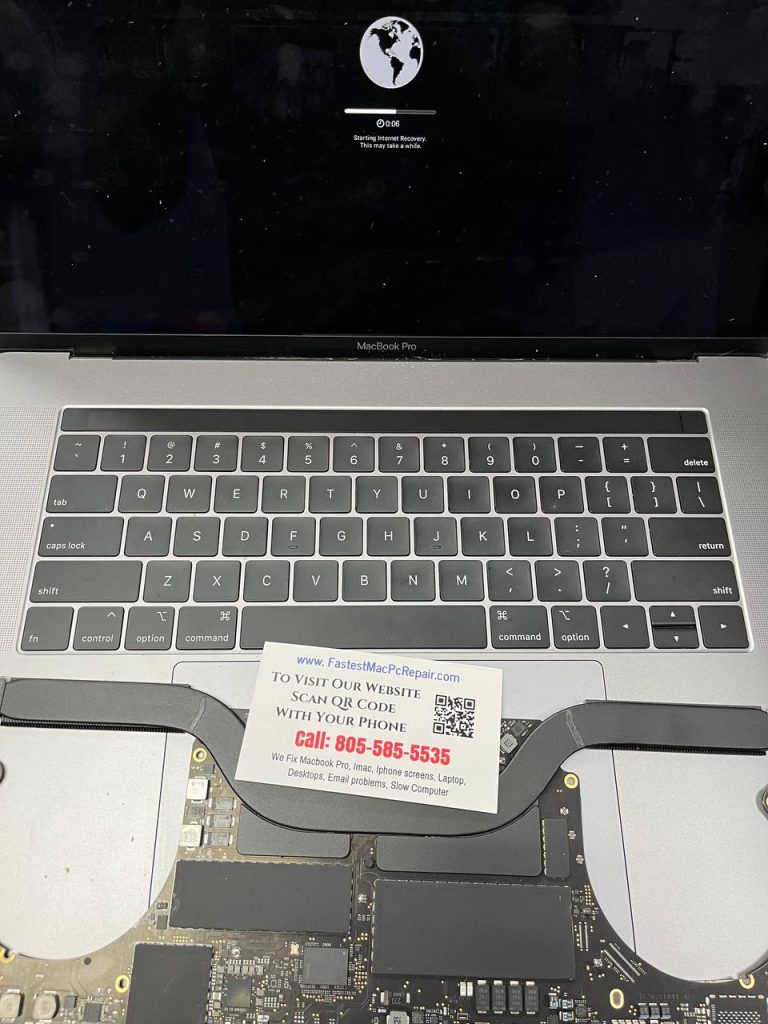 if you do these things right away, you have the best chance of saving the macbook. And most likely it will continue to operate without any issues forward.
Obviously just by reading that, we both know you will most likely unable to do any of that on your own, without damaging something else in the process. This is why next time you spill the some coffee on your macbook, you need to shut it down and bring it to a macbook repair shop right away, so we can do it for you.
But if you are like most people, you will do nothing. Or you will go online and read some bad recommendations or stick your macbook into a bag of rice and hope for the best. And then you will plug it in and fry something.
Then you will have no choice but go to apple store and buy a new computer(cause they sure won't help you fix it) Or you will have to find a mac repair shop near me and bring it in hopes of getting it fixed.
The problem with bringing it to a mac repair shop is that most shops don't even know how to fix water damage logic boards. They usually make things worse, because they practice repairing water damage on your macbook instead of ACTUALLY repairing it.
If you bring it to Fastest Mac Repair and Pc Repair – the most qualified mac repair shop in Thousand Oaks, it will definitely be fixed one way or another. In some cases it takes longer, because we have to order chips to replace. In some cases it is quick, in some cases the logic boards are not repairable, because some major component on it (like CPU or GPU) is damaged and the board can not be fixed.
With this A1990 macbook water damage repair the repair was difficult. Someone else already tried to fix it before us. After we looked at it, we fixed the first issue where the water caused damaged. But macbook would still be shutting off after some time of being turned on.
Eventually we realized that the GPU was the issue on it and that can not be replaced easily where its cost effective. Therefore the customer had to make a choice to either buy a new macbook or replace the logic board.
They decided to replace the logic board. In the end water damage macbook pro was fixed and is working with no problems.
We repair all kinds of macbook water damage problems. a1708, 1707, a2251, a1990, a1989, a2338 and other models.
call us at 805-585-5535 or stop by our shop during business hours. we are the fastest and most qualified mac repair shop in Thousand Oaks area.