Dell xps 13 Hinges Repair
Dell xps 13 Hinges Repair
this is quite a typical repair. the hinges on these laptops break quite often. in reality it is not really the hinge that breaks, but the place where hinge attaches to on the bottom of the palmrest. that is the part of the laptop that needs to be replaced.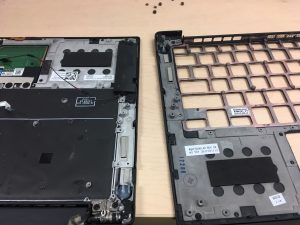 it makes it the most time intensive repair on this laptop because palmrest holds everything in it- keyboard, trackpad, speakers, and other little cables that need to be transferred. this design is obviously copied from apple macbooks. unfortunately not quite as well with the choice of material the palmrest is made out of. this version of aluminum looks sturdy, yet pretty fragile and snaps off easily.im not sure why these Dell xps 13 Hinges break off so often, maybe because of user error. but that many people couldn't break them in similar fashion, so i suspect its a design flaw.
either way Dell xps 13 Hinges Repair takes about 2-3 hours to complete, so no big deal you can go grab some lunch and run some errands and come back to a new looking laptop!
if you're looking for reliable, quickest mac repair or pc repair service in thousand oaks area call us at 805-585-5535 or stop by at 3339 Kimber dr. Suite D, Newbury Park, Ca 91320 www.fastestmacpcrepair.com check out our reviews on yelp https://www.yelp.com/biz/fastest-mac-repair-and-pc-repair-newbury-park-thousand-oaks
dell repair thousand oaks, dell repair newbury park, dell repair camarillo, dell repair malibu, dell repair westlake village, dell repair malibu, dell repair 91320, dell repair 93010, dell repair 93011, dell repair 93012, dell repair 93020, dell repair agoura hills,
our twitter page: https://twitter.com/fastestmacandpc
our google plus page: https://plus.google.com/u/0/116938480522490170066
give us likes on our facebook: https://www.facebook.com/fastestmacpcrepairnewburypark/
https://www.tumblr.com/dashboard