Macbook air water damage repair in Agoura hills 2 of them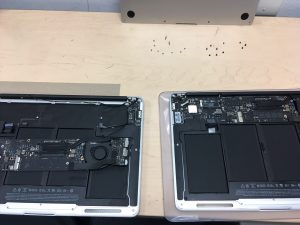 Macbook air water damage repair in Agoura hills 2 of them
these two macbook airs came in from same person! they both had fluids spilled and both were not turning on. imagine your kid spilling water not on one but two macbook airs almost in the matter of days! pretty scary situation!
even though the source of damage was the same -fluid, the results were not. one macbook air water damage repair was simpler than the other. first one still had charging light coming on. which always means there is better chance of survival and it did. upon opening macbook air and inspecting internal components it was clear there was water damage, however it was not so bad looking. therefore we proceeded to clean up the logic board by removing all visible and invisible corrosion from it. then we let it sit and dry for a little while and when it was visibly dry the board was reassembled into computer case and we tried to turn it on! and bam! it was working like before (or even better) 🙂
second macbook air water damage was not so lucky. the charger light was no longer coming on. also water spill was much larger and the simple clean up did not help to revive it. upon testing couple of components it was clear there was circuit damage on the logic board. therefore this macbook air water damage will need a more extensive repair, which takes a little longer. but most likely will be fixed too! usually it takes 3-4 days with us!
now if you are going to learn anything from this check this out! as i was explaining this to the customer. the fluids do not damage computers. you can put logic board in water and hold it there for an hour and take it out, let it dry and it will work as it did before. so do other components. i used to have a customer who used to wash her keyboard, cause she thought they were disgusting in dish washer! she would let them dry out and they would be working perfectly. so its not the water that kills them. it's electricity mixed with water.
when water gets onto computer and computer is still being fed electricity (usually from battery) that is when wrong contacts are being made on the logic board or other components. its like when you have two prongs in electrical outlet on your wall and separately they just sit there and nothing happens. but try to put ends of a wire into both of them and see what happens. you will see sparks flying and something melting fast! its because they are not supposed to touch together. yet water does that when it gets on board.
so the best thing you can do in situation that has fluid spilled on their macbook or laptop is not only to flip machine over so the water runs out. but you have to disconnect battery immediately! of course apple doesnt make it easy to do! but if you discount that part and have proper screwdriver you can do it! and do it right away! then you will save your computer!
Macbook air water damage repair in Agoura hills
if you're looking for reliable, quickest mac repair or pc repair service in thousand oaks area call us at 805-585-5535 or stop by at 3339 Kimber dr. Suite D, Newbury Park, Ca 91320 www.fastestmacpcrepair.com check out our reviews on yelp https://www.yelp.com/biz/fastest-mac-repair-and-pc-repair-newbury-park-thousand-oaks
macbook air repair thousand oaks, macbook air repair newbury park, macbook air repair camarillo, macbook air repair malibu, macbook air repair westlake village, macbook air repair malibu, macbook air repair 91320, macbook air repair 93010, macbook air repair 93011, macbook air repair 93012, macbook air repair 93020, macbook air repair agoura hills,