gaming pc repair
It used to be when Gaming PCs would stop working it was almost always a motherboard issue. Something would burn out on the motherboard and the Gaming PC would sort of turn on, but display nothing on a screen. Back in the day, you were almost always certain it was a graphics chip or something else wrong with the motherboard.
However today times are different and gaming pc repair is more tricky. Ever since the CPUs were produced with graphics capability in them, they became more complex. So nowadays when a gaming PC or a PC Desktop with a CPU with graphics in it fails, you are not so sure what is going on. And judging from the gaming pcs that came in the past two years, there were more and more cases where a failed CPU was a culprit. With the motherboard being intact.
The challenge always is to find out which one of the components is faulty. Is it a motherboard or is it a CPU? There is really no other way of finding out, other than putting a CPU into another (working) motherboard. Or put another CPU into the current motherboard and see which one works.
This last Gaming PC that came in, had a faulty CPU also. How did we find out? Since we didn't have the same type of motherboard or CPU in stock, we had to order one of the two. Unfortunately, we ordered the wrong one. We decided to buy a new motherboard, but after it arrived and the old CPU was installed, the gaming pc was acting exactly the same as with the original motherboard. Which tells us that the CPU was faulty.
So now we will get a new CPU and remember the new rule of thumb (sort of)! Next time we will try to ERR on the side of the CPU being faulty rather than the motherboard, cause it really seems to be happening more often this way. And seems like Intel CPUs are also failing a little more often than AMD.
If you are experiencing issues where your gaming pc doesn't start, or your gaming pc has black screen, or you need a PC assembled or you have assembled a PC and it doesn't work properly. Call Fastest Mac Repair and Pc Repair Newbury Park at 805-585-5535 we can help!
Or stop by our store at 3339 Kimber Dr. STE D, Newbury Park, CA 91320
We are the fastest, most qualified PC repair shop in Thousand Oaks area. we also offer computer repair in Moorpark, ca and pc and mac repair in Camarillo, CA
Cheers!
This gaming pc shutting down randomly issue, at first seemed to appear as puzzle and as a great challenge. Because it would shut down randomly, after 4-5 minutes when playing a video game. Or when rendering some videos on a computer.At other times it was running smoothly, which made the whole situation a little confusing at first.
So like always, first thing we had to check was RAM memory and after switching them back and forth, as well as trying to run computer on one memory stick at the time. The problem still persisted.But the possibility of RAM stick being faulty was eliminated.
Next we thought its either the power supply or the graphics card. Because it seemed that the shut down issue was occurring when gaming pc was under heavy load of graphics. So right away, we tried to install a different graphics card. After installing it, had to update the latest drivers on it. And then try playing a video game.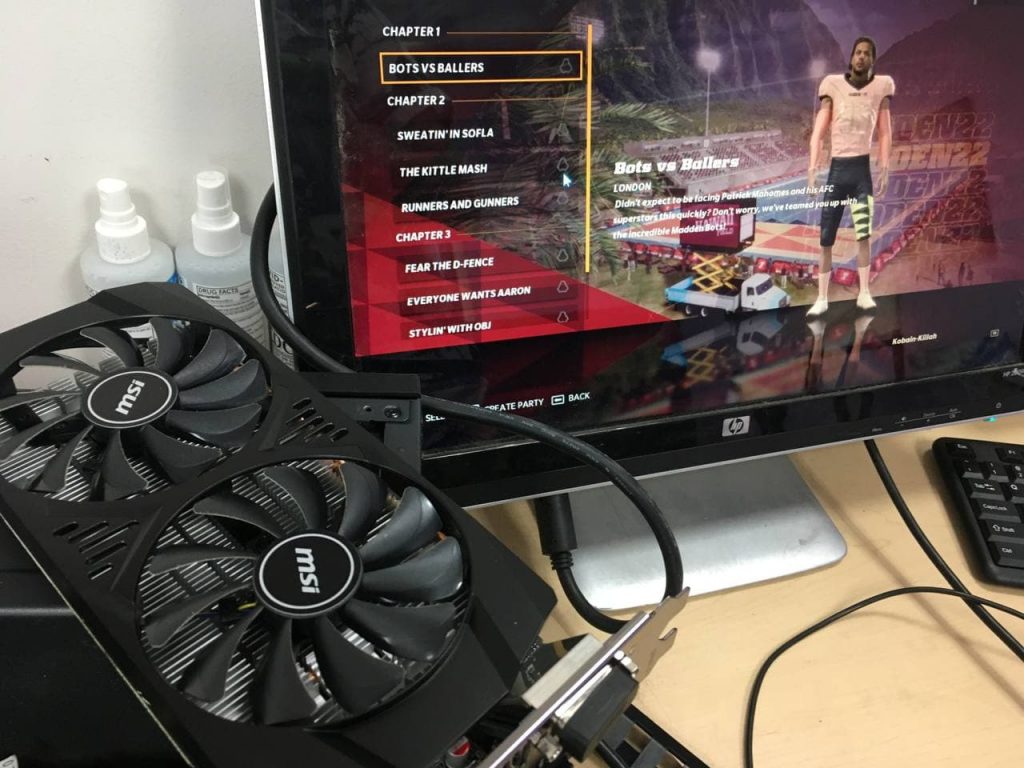 And what do you know, the pc stopped shutting down. the game was playing smoothly for over an hour and there were no problems anymore.
Graphics card failure is pretty common thing in a computer world. they fail on laptops, macbooks, imacs, and all other devices. they fail due to overheating issues, due to manufacturing defects, from aging and all of the above combined. In most cases you can guess how long your card will last. But in general they last quite a long time, especially if you make sure the fans on it are clean and they get proper cooling, as well as periodically changing thermal paste on them as well, also to improve cooling, so it does'g get too hot quickly.
for any computer questions or any gaming pc repair issues feel free to call us at 805-585-5535 or stop by our store at Fastest mac repair and pc repair newbury park, ca 91320
All questions and quotes are free of charge.